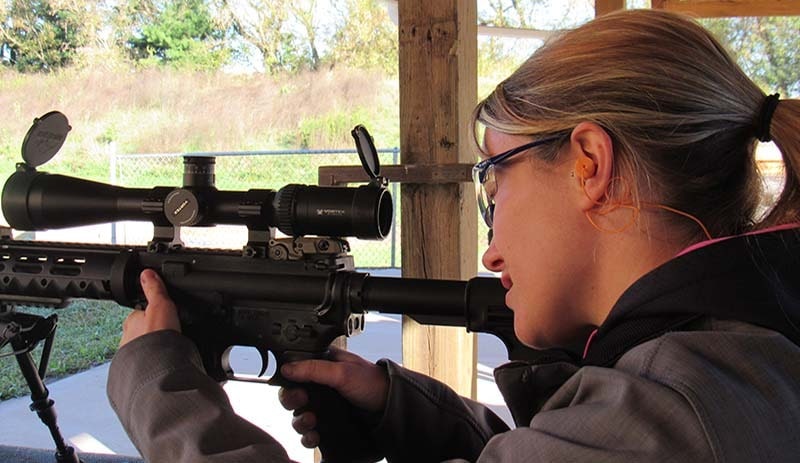 Women on Target is an event for women only. The event is designed to provide women with the opportunity to experience shooting several different types of firearms in a safe environment while being coached on proper firearms safety, handling, aiming, and shooting. There are 2 sessions: Morning (8:00-11:30) and Afternoon (12:30- 4:00 PM). Each session is about 4 hours including lunch. Cost for the event, including lunch, is $30.00
After being given a session in safe firearms handling, you will have the opportunity to shoot the following firearms:
4 different handguns (22 revolver, 22 pistol, 38 special revolver, 9mm pistol)
Trap shooting with a 12 or 20 gauge shotgun
Some years we also offer either a hunting rifle or WWII vintage rifles.
Each station has a coach well-versed in that particular firearm. The intent of the event is for you to enjoy the experience the sport of shooting. You only shoot the firearms you wish to.
Everything is included; firearms, ammunition, targets, eye and hearing protection, and lunch. Water and coffee are available through the entire event.
We always raffle off several prizes during the events. Raffles are cash only.
Registration Instructions
You must register for the event and payment must by received before 2021-06-01. If you are placed on the waitlist, you will be contacted when there is an opening and given instructions. If placed on the waitlist, you do not pay until you have been notified of an opening.
In order to maximize event seating, we will remove any participant whose payment is not received after 10 days of registration.
Requests for refunds must be received before 2021-06-01. Email
pr@menomonierifleandpistolclub.org
 with your first and last name, and the confirmation number from your confirmation email.
If there is a mistake or information needs to be changed, DO NOT re-register. Instead contact
pr@menomonierifleandpistolclub.org
 with the corrected information and your confirmation number.
Women under 18 must have successfully completed a Hunter Education or Hunter Safety Course
AND
 be accompanied by a paid adult participant. The accompanying adult must register first. Include the adult's first and last name, and their confirmation number (from the adult's confirmation email) when registering the minor. There is no registration fee for the minor when accompanied by an adult participant.
You may pay by check or online with PayPal. Any returned checks will be charged the $30.00 entry fee plus recovery costs.
Checks should be sent to:
Women On Target
C/O Duke Holmberg
E5777 708th Avenue
Menomonie, WI 54751
https://www.menomonierifleandpistolclub.org/events/wot.php
https://www.facebook.com/events/1799243146923486