Community Wide Snow Sculpture Event- DATES EXTENDED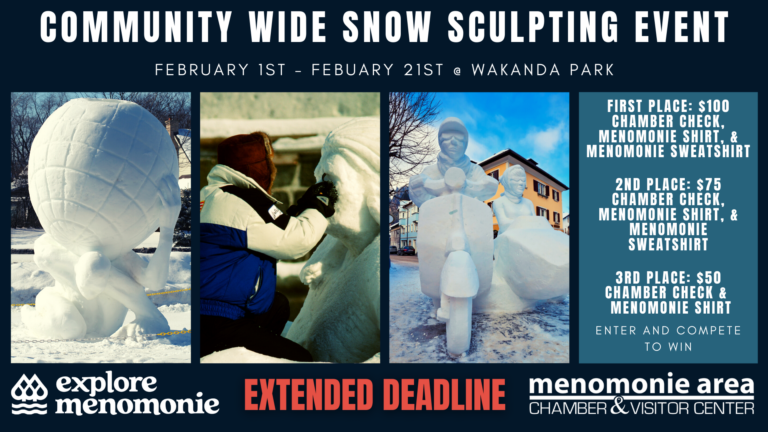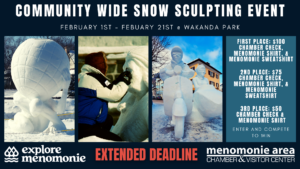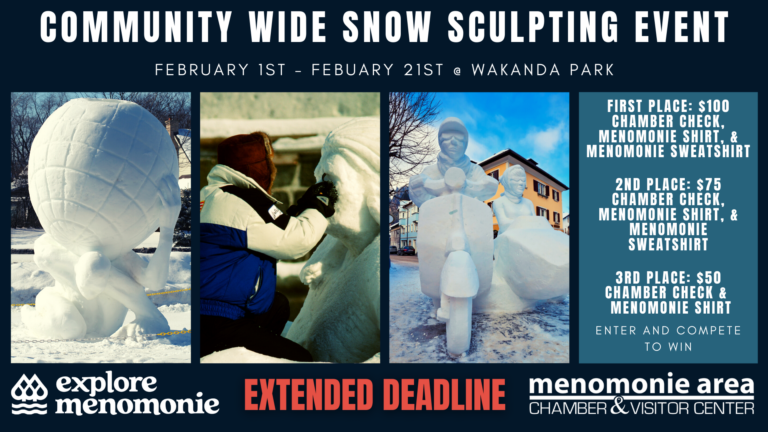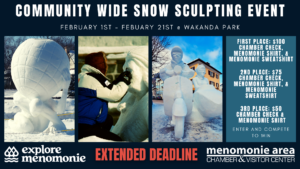 Menomonie Community-Wide Snow Sculpture Event
February 1st – February 21st
This is a free, family-friendly community winter event hosted by the Menomonie Area Chamber of Commerce & Visitor Center.
Build a snow sculpture at Wakanda Park along Game Park Road or in your own yard.Take a picture of your sculpture &post it on Explore Menomonie'sFacebookEvent Page for this eventor direct message Explore Menomonie's Facebook page.
https://www.facebook.com/exploremenomonie/
Prizes:
1st Place – $100 Chamber Check, Menomonie Shirt, & Menomonie Sweatshirt
2nd Place – $75 Chamber Check, Menomonie Shirt, & Menomonie Sweatshirt
3rd Place – $50 Chamber Check & Menomonie Shirt
Community Voting will take place February 22nd – Febrary 24th. We will create a post with a list of the snow sculptures that were entered. Voting will take place in a form of a comment on that post.
Please remember to Respect Our Parks.
Please only go into Wakanda Park to create a sculpture when the park is open from 7 a.m. to 10 p.m. & clean up any trash you bring along.
Special Thank you to the Menomonie Recreation Department & the City of Menomonie.
Additional information & Disclaimer
Condition of snow cannot be guaranteed.
We cannot guarantee your snow sculpture to be standingany timeafter you complete it due to weather or unforeseen circumstances, so make sure to take a picture of the snow sculpture before leaving the park.
Bring your own tools for sculpting.
Only snow, ice, or color additives can be used in your snow sculpture. For example, if you choose to make a snowman for your snow sculpture, do not use rocks, scarves, hats,etc.to decorate the snowman. Instead to decorate you could use food coloring mixed with water to add details.
While working on snow sculptures in Wakanda Park remember to social distance from others.
Participation is at your own risk.
Sculptures should be family-friendly and non-political in nature.
Do not take snow from Wakanda Park or neighboring areas to build sculpture at your house.
Do not touch other's sculptures and be respectful of other creations.
For More Information:
https://www.facebook.com/events/393289795098119/
Emailmarekting@menomoniechamber.org
Call 715-235-9087